Your Magnum Opus or major project will be your opportunity to apply what you have learned, the skills you have developed, and your creativity and inventiveness to a personal photography project. The project must have a theme and contain a minimum of 7 different images.
Some possible themes:
Re-visit a genre we explored in earlier shoots; portraiture, landscape, abstraction
Document a trip, an athletic event, a social event
A portrait of family, friends, strangers, your cat, your car
A portrait without showing the subject
Express a poetic statement, a reaction to your world, a social commentary, a story
Depict something you collect, different views of the same object, or a variety of the same type of objects


The project will involve planning, shooting, printing, and presenting your work in a sequence of photographs mounted together as a collage or panoramic.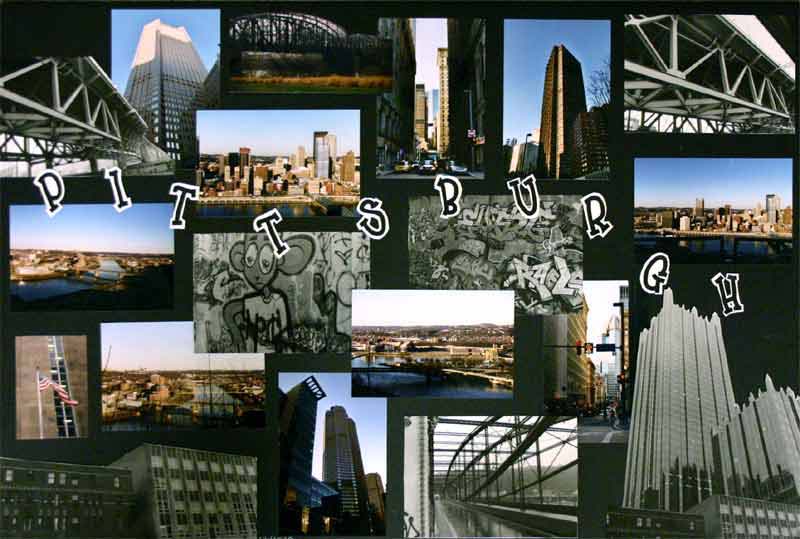 All prints should be in very sharp focus
Have a center of interest
Get as close to your subject as possible
Watch your backgrounds
Shoot birdís eye and bugís eye views
Shoot horizontals and verticals
Correct printing exposure by burning in, dodging out, and using filters
Place subject based on the rule of thirds
Be creative and have fun
To help you get started, please brainstorm 5 potential themes or ideas you would be interested in exploring. From one of these ideas, draw out a one paragraph proposal that addresses: 1) what you are going to shoot and 2) how you are going to present the work.
http://www.yosoyartista.net/na/academics/Art/multimedia/writing_rubric.htm
Assignment given: Tuesday December 11th
Five ideas due: Monday December 17th
Proposal due: ASAP
Film or digital shoot due Wedenesday January 2nd
Contact prints due Friday January 4th
The final project should include a minimum of seven prints properly mounted on matboard. At least one print must be an 8 x 10 (or larger up to 16 x 20). This dominant print should be the very best shot that emphasizes your theme/topic or idea. Six additional prints may vary in size, but can not be smaller than a 5 x 7. Another presentation option would be to create a PowerPoint or web site to present your work.
The final deadline is Tuesday January 15th!!!
Magnum Opus Famous Photographer Slide Show
Magnum Opus Student Photographer Slide Show
Photo Phun--some alternative darkroom techniques, which you may want to incorporate into your Magnum Opus
Photojojo is an awesome photo newsletter that shares photo tips, DIY projects and gear with subscribers
Here are some projects that could be potential Magnum Opus themes:


http://photojojo.com/content/diy/scrabble-board-picture-frame/

http://www.flickr.com/photos/jasonepowell/sets/72157613841045343/

http://little-people.blogspot.com/

http://photojojo.com/content/diy/perpetual-photo-calendar/

http://digital-photography-school.com/a-beginners-to-capturing-motion-in-your-photography

http://www.flickr.com/photos/h19/sets/72157594182549008/

http://photojojo.com/content/inspiration/vacation-pictures-of-my-feet/

http://photojojo.com/content/photojojo-original/record-sleeve-and-money-portraits/

http://www.janvonholleben.com/dreams_of_flying.php

http://photojojo.com/content/diy/how-to-make-lenticular-images/

http://photojojo.com/content/diy/make-your-own-pop-out-photos/

http://photojojo.com/content/tutorials/create-your-own-panorama-planets/
http://photojojo.com/content/photo-projects/photo-projects-for-kids/