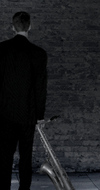 Artist: Nicholas Amoscato
School: North Allegheny

Notes:
This composition began in my AP Music class as a classmate's melody. We were to take that melody and create an original song. Shortly after, I was given an English assignment to recreate Beowulf though music. The two prompts fit perfectly, and I have the storyline of Beowulf to thank for the piece's development.
For detailed composer notes, click here.
Note: This is a second version of my original composition. I revisited the piece and edited volume, texture, and dissonance.